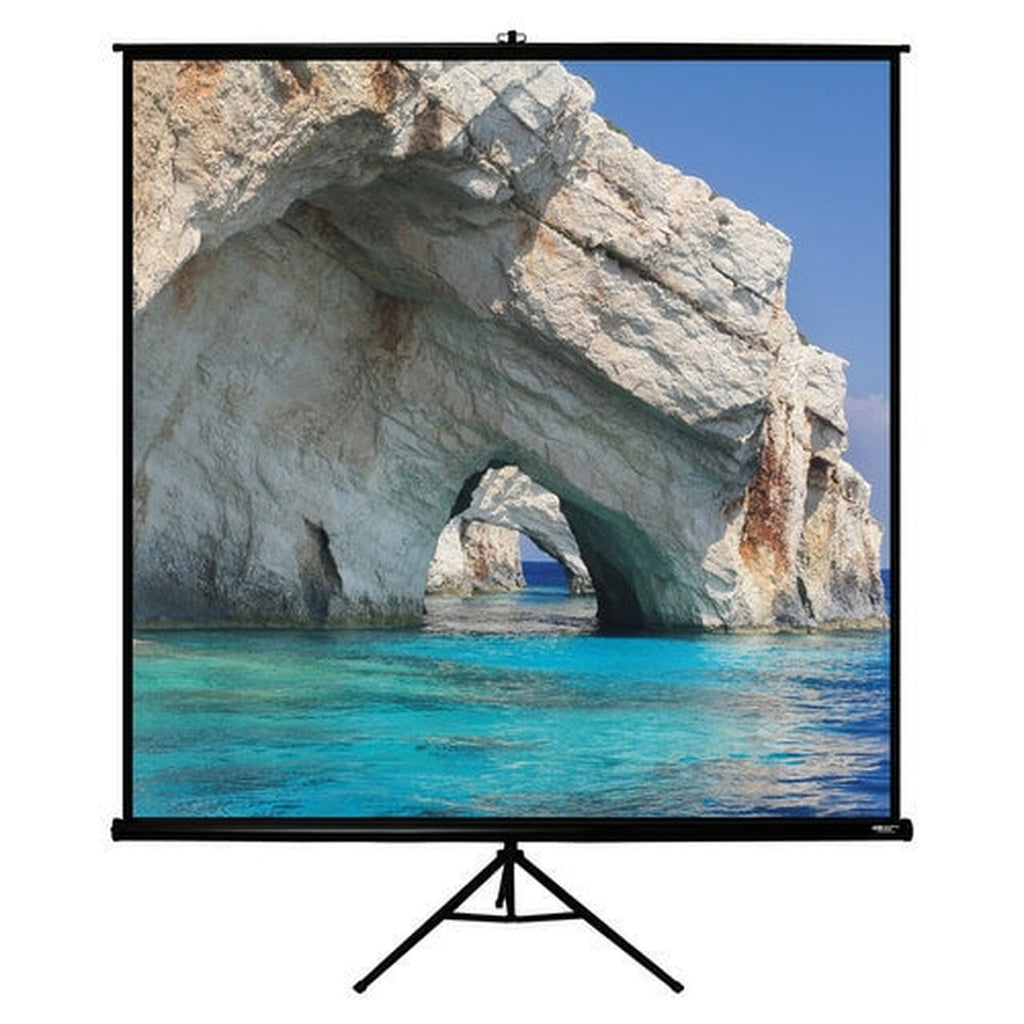 HamiltonBuhl
HamiltonBuhl 135" Diag. (96x96) Tripod Projector Screen, Square Format, Matte White Fabric, Black Case | MaxStrata®
---
135" Diag. (96x96) Tripod Projector Screen, Square Format, Matte White Fabric With Black Case
The HamiltonBuhl Tripod Series is the ideal budget solution for mobile presentations and various other portable applications. Perfect for classrooms, training rooms, trade shows and even limited outdoor use. Rugged and easily setup in minutes, the tripod is a very versatile solution for any of your projection needs. Simply retract the screen into the casing, lower the upper adjustable shaft, fold up the tripod legs/base, and pivot the screen casing to create a single unit that's easily transported via the carrying handle. If being used outdoors, we recommend additional restraints to be added and use only during ideal outdoor weather conditions.
The HamiltonBuhl Tripod also features a durable flame retardant and mildew resistant screen material, that can be cleaned with mild soap and water. Heavy-Duty, yet lightweight steel casing also features an ergonomic carry handle, for ease of transportation. The HamiltonBuhl Tripod projector screen also features a built-in keystone eliminator in the upper shaft, which allows the screen to tilt forward in multiple increments, in order to compensate for angled tabletop projection setups.
Matte White Fabric
Viewing Angle: 120° / Gain: 1.0
Matte White - The most versatile screen fabric surface and the premier choice when ambient light is controllable. The Matte White projector screen fabric evenly distributes light over a wide viewing area, while colors remain bright and life-like, with no shifts in hue or contrast. The 120° viewing angle allows for a very wide audience seating arrangement. With an even Gain of 1.0, this projector screen fabric allows for no loss of brightness from the projection source, as long as ambient light is controlled. A black backing to the fabric is also added to impede any light penetration from behind the projected surface.
The matte white screen surface can be easily and safely cleaned with mild soap and water. Do not use any other stronger chemical cleaners, as this may negatively affect the projection surface. The fabric surface is also flame retardant and mildew resistant.
 

At MaxStrata, we strive to provide the best customer service possible to ensure the utmost satisfaction for our customers. We work hard to promote our promise by offering Express Shipping anywhere around the world, a full 30-day money back guarantee*, and a one-year limited manufacturer's warranty for products**.
Express Shipping
Through MaxStrata, we strive to make innovative products available to everyone, anywhere, at a low cost. To fulfill our promise, we provide Free Express Shipping and Returns* in the contiguous United States and Low-cost Express Air Shipping for our Hawaii, Alaska, and International customers. By instilling the MaxStrata Promise into our shipping practices, we are ensuring that you receive the quickest delivery time at the lowest price possible.
Full Refund*
Change your mind about your purchase? No Problem! At MaxStrata, we ensure our customers a 30-day return period for any new and unused product* for a full refund.
Product Warranty**
By completing your purchase at MaxStrata, you guarantee yourself a one-year limited manufacturer's warranty on your product that will cover manufacturer defects not caused by the customer.
*  For customers living in Hawaii, Alaska, and outside of the United States, the customer will be responsible for paying for the shipping costs for returning the item back to MaxStrata within 30 days of delivery.
** OEM Lamps are excluded from the one-year limited manufacturer's warranty. OEM Lamps carry a 90-day warranty from the manufacturer.  
Save
Save
Save
Save
---
Share this Product
---
More from this collection