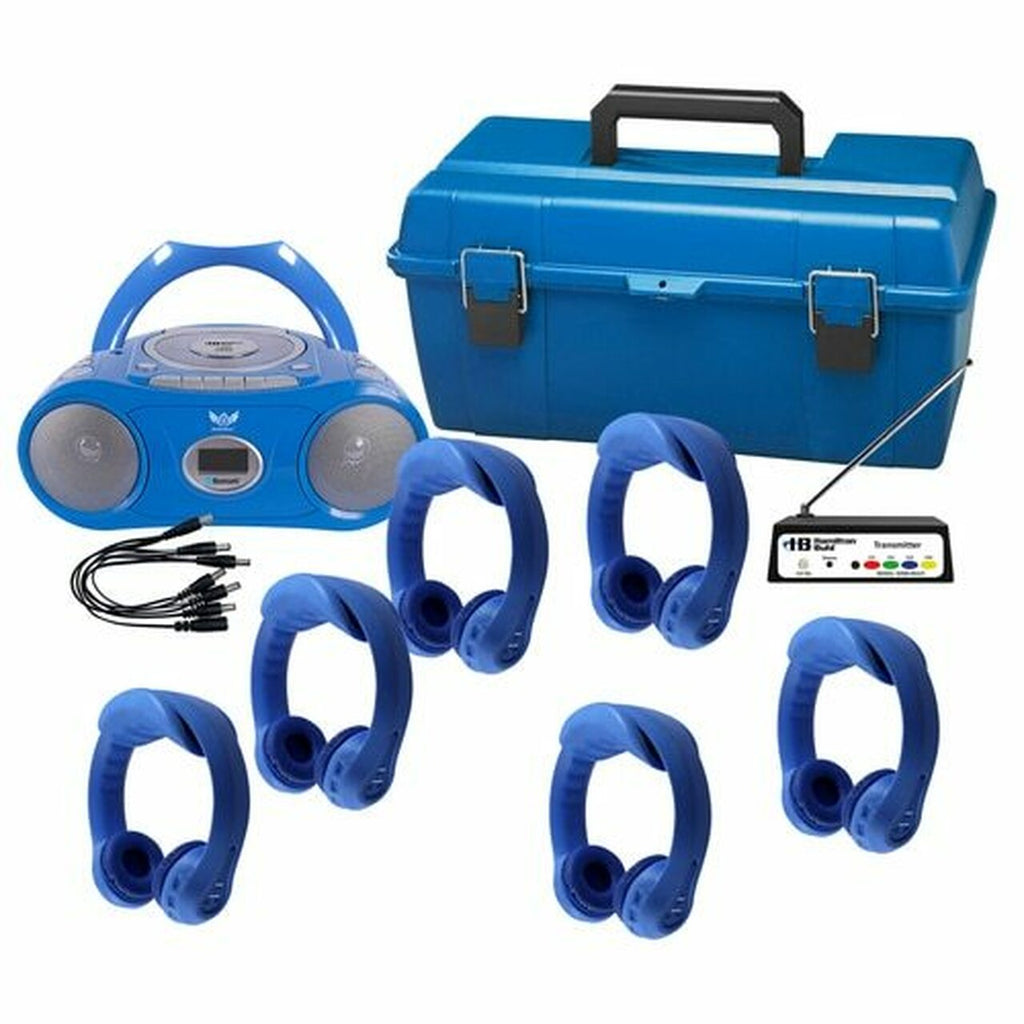 HamiltonBuhl
HamiltonBuhl 6 Person Wireless Flex-PhonesAF Listening Center with AudioAce Boombox | MaxStrata®
---
HamiltonBuhl 6-Person Wireless Flex-PhonesAF™ Wireless Listening Center With AudioAce Boombox
Go wireless in your classroom with plug and play simplicity.
Perfect for all multimedia, lab and classroom applications, the system includes everything you need in a listening center along with high quality, unrivaled functionality and rugged durability.
Simply connect your the Bluetooth enabled AudioAce™ boombox - the CD, cassette and FM radio media player - to the wireless transmitter, then, via an FM signal, transmit to a nearly unlimited number of wireless, virtually indestructible Flex-PhonesAF™ headphones.
This 6 Person Wireless Listening Center Includes:
(1) AudioAce™Portable Bluetooth®Boombox and Media Player (MPC-5050):
This portable Bluetooth® boombox and media player is built to deliver on the multiple media needs and demands of today's classrooms. Built with versatility in mind, AudioAce™ boombox accommodates both old and new technologies!
Play CDs, cassette tapes, FM radio, and with the built-in Bluetooth, wirelessly stream music through AudioAce™ from your tablet, smart phone, computer or any other Bluetooth-enabled device. You can even playback media from non-Bluetooth devices via AUX IN jack.
Designed and built to withstand the rigors of classroom use while providing high quality sound, the teacher-approved AudioAce media player (MPC-5050) is an excellent choice for classroom use!
(6) Blue Flex-PhonesAF™ Wireless Dual-Channel Headphones (FLEXW1):
Flex-PhonesAF™ are the nearly indestructible, made from a single piece of safe, non-toxic, BPA-free, soft and extremely flexible EVA foam headphones. With two built-in, dedicated FM channel receivers, these wireless headphones deliver excellent sound quality without antennas, wires or interference!
Certified for all major USA and international child safety testing standards, Flex-PhonesAF™ are ideal for children ages 3+ and come with a snap-on extension band for a snugger fit.
(1) Wireless Transmitter (W900-Multi)
(1) Lockable Carrying Case (lock not included)
(1) 6-Way Charging Cable (W990)
 

At MaxStrata, we strive to provide the best customer service possible to ensure the utmost satisfaction for our customers. We work hard to promote our promise by offering Express Shipping anywhere around the world, a full 30-day money back guarantee*, and a one-year limited manufacturer's warranty for products**.
Express Shipping
Through MaxStrata, we strive to make innovative products available to everyone, anywhere, at a low cost. To fulfill our promise, we provide Free Express Shipping and Returns* in the contiguous United States and Low-cost Express Air Shipping for our Hawaii, Alaska, and International customers. By instilling the MaxStrata Promise into our shipping practices, we are ensuring that you receive the quickest delivery time at the lowest price possible.
Full Refund*
Change your mind about your purchase? No Problem! At MaxStrata, we ensure our customers a 30-day return period for any new and unused product* for a full refund.
Product Warranty**
By completing your purchase at MaxStrata, you guarantee yourself a one-year limited manufacturer's warranty on your product that will cover manufacturer defects not caused by the customer.
*  For customers living in Hawaii, Alaska, and outside of the United States, the customer will be responsible for paying for the shipping costs for returning the item back to MaxStrata within 30 days of delivery.
** OEM Lamps are excluded from the one-year limited manufacturer's warranty. OEM Lamps carry a 90-day warranty from the manufacturer.  
Save
Save
Save
Save
---
Share this Product