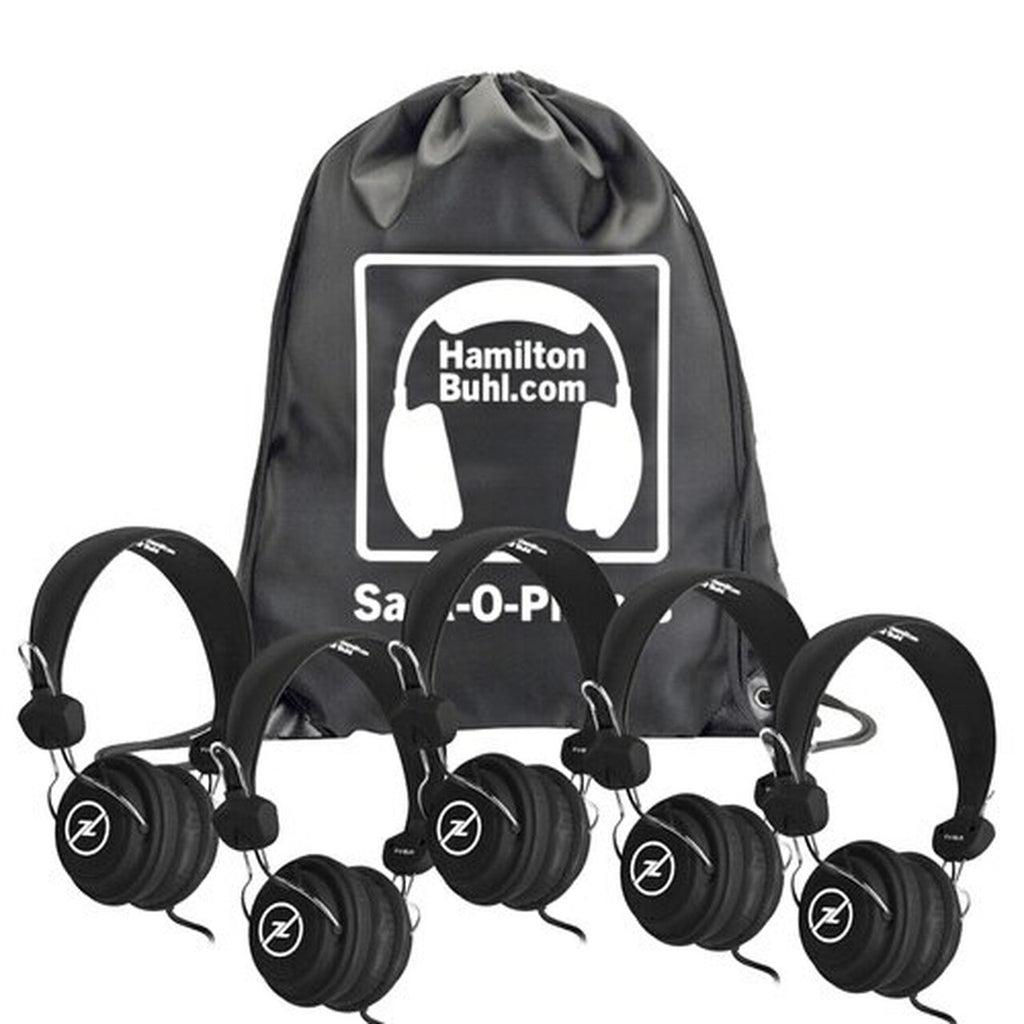 HamiltonBuhl
HamiltonBuhl Sack-O-Phones, 5 Black Favoritz Headsets with In-Line Microphone and TRRS Plug | MaxStrata®
---
HamiltonBuhl SOP-FVBLK Sack-O-Phones
Sack-O-Phones is a unique storage and carry bag that doubles as a knapsack, and this one holds 5 black Favoritz™ headsets with in-line microphone and 3.5mm TRRS plug. Each headset comes in its own heavy-duty, anti-lice, write-on, moisture-resistant, resealable bag.
Cool for School Favoritz™ headsets have a sleek appearance and offer a rugged durability for everyday use. Students will be proud to sport this mid-sized headset to use with their tablet, computer, mobile device, almost anything.
The Favoritz™ series features compatibility with the latest technology by including a slim barrel 3.5mm TRRS plug for easier audio-jack insertion into devices with protective covers, in-line microphone and the exclusive Dura-Cord™ - the kink and chew-resistant cord.
SOP-FVBLK Sack-O-Phones Includes:
(5) Black Favoritz™ Headsets with In-Line Microphone (FV-BLK)
(1) Carry Bag (SOP)
Compatible With:
MP3 Players
Cell Phones / Mobile Devices
Tablets / eReaders
Chromebooks
Computers (Mac & PC)
CD Players / Stereos
TVs
Most Gaming Systems
Prevent The Spread Of Lice:
Built with kid's health and safety in mind, each headset comes in its own heavy-duty, write-on, moisture-resistant, resealable bag. When sealed in the bag, lice are killed in 24-48 hours, without the use of chemicals.
 

At MaxStrata, we strive to provide the best customer service possible to ensure the utmost satisfaction for our customers. We work hard to promote our promise by offering Express Shipping anywhere around the world, a full 30-day money back guarantee*, and a one-year limited manufacturer's warranty for products**.
Express Shipping
Through MaxStrata, we strive to make innovative products available to everyone, anywhere, at a low cost. To fulfill our promise, we provide Free Express Shipping and Returns* in the contiguous United States and Low-cost Express Air Shipping for our Hawaii, Alaska, and International customers. By instilling the MaxStrata Promise into our shipping practices, we are ensuring that you receive the quickest delivery time at the lowest price possible.
Full Refund*
Change your mind about your purchase? No Problem! At MaxStrata, we ensure our customers a 30-day return period for any new and unused product* for a full refund.
Product Warranty**
By completing your purchase at MaxStrata, you guarantee yourself a one-year limited manufacturer's warranty on your product that will cover manufacturer defects not caused by the customer.
*  For customers living in Hawaii, Alaska, and outside of the United States, the customer will be responsible for paying for the shipping costs for returning the item back to MaxStrata within 30 days of delivery.
** OEM Lamps are excluded from the one-year limited manufacturer's warranty. OEM Lamps carry a 90-day warranty from the manufacturer.  
Save
Save
Save
Save
---
Share this Product
---
More from this collection