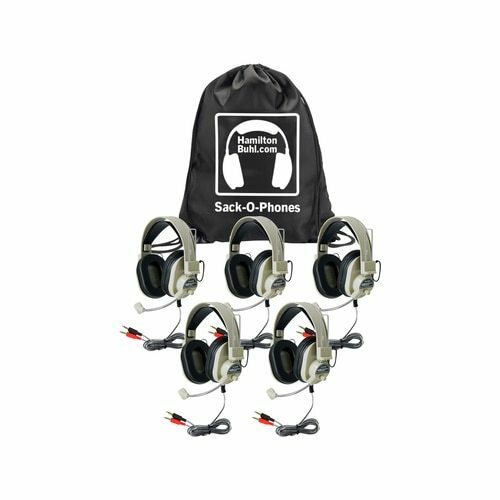 HamiltonBuhl
HamiltonBuhl Sack-O-Phones, 5 HA-66M Deluxe Multimedia Headphones in a Carry Bag | MaxStrata®
---
The Hamilton Buhl SOP-HA66M Sack-O-Phones- 5 Pack of Hamilton HA66M Deluxe MultiMedia Headphones with Microphone. Sack-O-Phones packaging is a unique bag that doubles as a knap sack and holds 5 deluxe or 10 personal headphones. It's a great way to store headphones easily and economically, no need for costly plastic cases for storage. Sack-O-Phones Includes: •(5) HA66M Deluxe MultiMedia Headphones with Microphone •(1) Sack-O-Phone Carry Bag
Features:
5 Pack of Headphones
Draw String, Carry Bag 18' x 14"
Headphone: Speaker Drivers: 40mm Mylar Magnet Ferrite Cobalt
Frequency Response: 20-20,000 Hz
Impedance: 32 Ohms +- 15% each side
Sensitivity: 110dB
Max. Input: 30 mw
Plugs: 1 /8" Stereo, black jacketed, nickel plated
Cord: 7 feet
Headband: Adjustable, Vinyl Covered
Black vinyl
Microphone: Electret condenser, Omni Directional
Sensitivity: -41dB, standard -38dB, max -35dB
Frequency Response: 20-16,000Hz
Impedance: 1,500 Ohms
Operating Voltage Nominal 3V: Accepts 1.5V-10V "
Plug: 1/8" Nickel Plated Stereo, Red Jacketed
Warranty 1 Year
 

At MaxStrata, we strive to provide the best customer service possible to ensure the utmost satisfaction for our customers. We work hard to promote our promise by offering Express Shipping anywhere around the world, a full 30-day money back guarantee*, and a one-year limited manufacturer's warranty for products**.
Express Shipping
Through MaxStrata, we strive to make innovative products available to everyone, anywhere, at a low cost. To fulfill our promise, we provide Free Express Shipping and Returns* in the contiguous United States and Low-cost Express Air Shipping for our Hawaii, Alaska, and International customers. By instilling the MaxStrata Promise into our shipping practices, we are ensuring that you receive the quickest delivery time at the lowest price possible.
Full Refund*
Change your mind about your purchase? No Problem! At MaxStrata, we ensure our customers a 30-day return period for any new and unused product* for a full refund.
Product Warranty**
By completing your purchase at MaxStrata, you guarantee yourself a one-year limited manufacturer's warranty on your product that will cover manufacturer defects not caused by the customer.
*  For customers living in Hawaii, Alaska, and outside of the United States, the customer will be responsible for paying for the shipping costs for returning the item back to MaxStrata within 30 days of delivery.
** OEM Lamps are excluded from the one-year limited manufacturer's warranty. OEM Lamps carry a 90-day warranty from the manufacturer.  
Save
Save
Save
Save
---
Share this Product