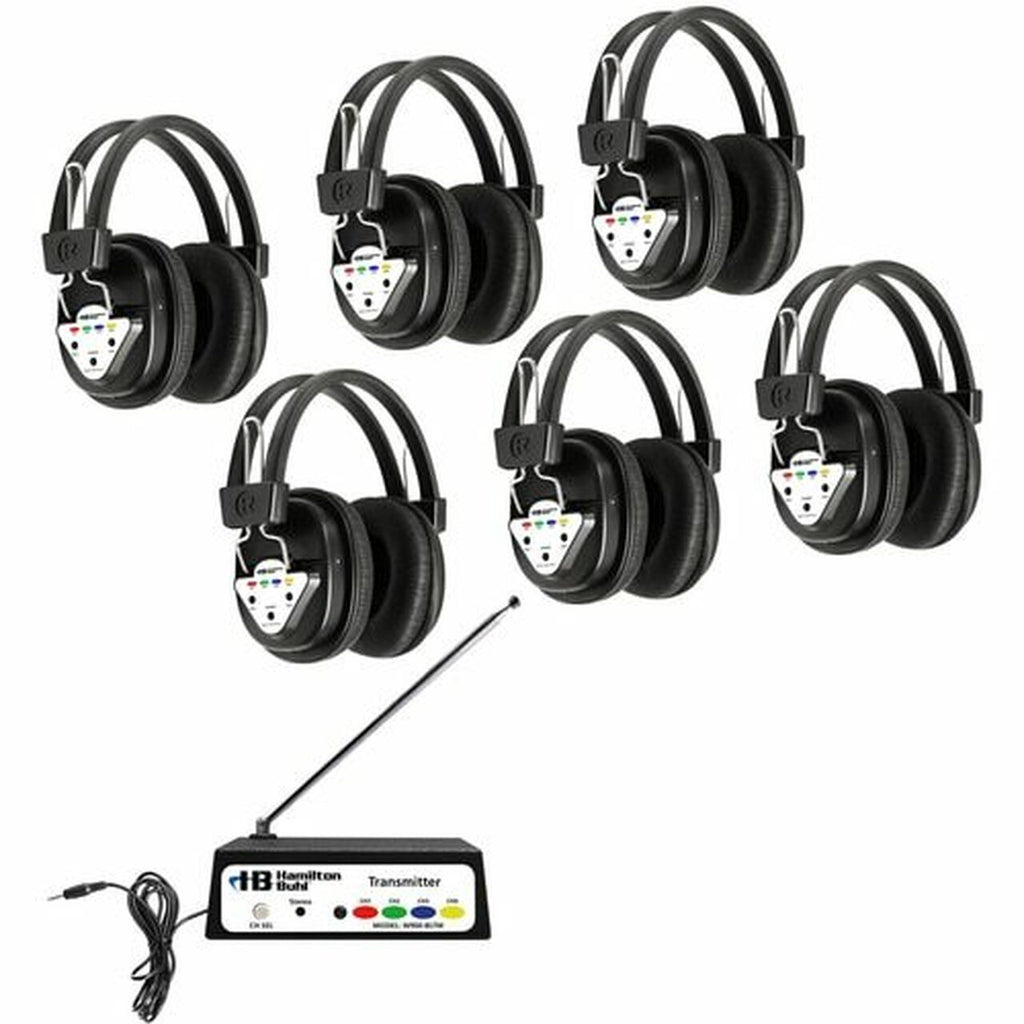 HamiltonBuhl
HamiltonBuhl Wireless Listening Center, 6 Station with Headphones & Bluetooth Transmitter | MaxStrata®
---
HamiltonBuhl Bluetooth® Wireless 6 Person Listening Center Go wireless in your classroom with plug-and-play simplicity. Connect to the wireless transmitter via Bluetooth® with your tablet, mobile device or any unit with Bluetooth® capabilities. Audio is then transmitted to a nearly unlimited number of wireless headphones via a wireless FM signal. Perfect for all multimedia, lab and classroom applications, this system includes one wireless transmitter and four headphones. Easily switch between 4 different frequencies with color-coded switches. Add additional transmitters to have up to 4 different channels of audio simultaneously!
Features:
(1) Wireless Transmitter with Built-in Blue Tooth
(6) Wireless Headphones
(1) AC Power Adapter (W980) for use with transmitter and headphone charging
(1) 6-way charging cables (W990) for wireless headphone charging
Range: ± 300 feet
4 switchable FM frequencies 72.500 MHz - Blue
72.100 MHz - Yellow
72.900 MHz - Green
74.700 MHz - Orange
Dedicated FM channels
Color-coded frequency switches
AC cord for use with transmitter and headphone charging
Superb sound without cords or wires - no interference from other electronic equipment
Listen with an infinite number of headphones on one frequency with one transmitter
Specifications for W901-Multi Headphones:
Multi-channeled wireless headphones
No antenna on headphone
Up to 35 hours of operating time between charges, with 12 to 14 hour charge time
Superb sound quality without wires or interference
Powered by classroom friendly internal NiMH battery
Switchable between 4 frequencies
6-way cable to charge headphones with one AC cord
 

At MaxStrata, we strive to provide the best customer service possible to ensure the utmost satisfaction for our customers. We work hard to promote our promise by offering Express Shipping anywhere around the world, a full 30-day money back guarantee*, and a one-year limited manufacturer's warranty for products**.
Express Shipping
Through MaxStrata, we strive to make innovative products available to everyone, anywhere, at a low cost. To fulfill our promise, we provide Free Express Shipping and Returns* in the contiguous United States and Low-cost Express Air Shipping for our Hawaii, Alaska, and International customers. By instilling the MaxStrata Promise into our shipping practices, we are ensuring that you receive the quickest delivery time at the lowest price possible.
Full Refund*
Change your mind about your purchase? No Problem! At MaxStrata, we ensure our customers a 30-day return period for any new and unused product* for a full refund.
Product Warranty**
By completing your purchase at MaxStrata, you guarantee yourself a one-year limited manufacturer's warranty on your product that will cover manufacturer defects not caused by the customer.
*  For customers living in Hawaii, Alaska, and outside of the United States, the customer will be responsible for paying for the shipping costs for returning the item back to MaxStrata within 30 days of delivery.
** OEM Lamps are excluded from the one-year limited manufacturer's warranty. OEM Lamps carry a 90-day warranty from the manufacturer.  
Save
Save
Save
Save
---
Share this Product